Explore The World with Rail Passes
Travelling by Train is a unique experience. Be it for the thrill of high speed, the comfort, the scenery and all for an attractive price. If you havent't deceided how to travel yet, you may choose train on your next trip to Europe, the USA, Canada, Australia, Korea, Japan or India.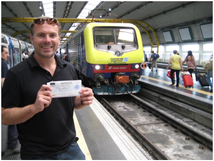 Eurail is one of the easiest ways to discover Europe – hassle-free rail transport in a continent of many languages, indigenous cultures, and a beautiful countryside. Eurail which is one the best and the most famous rail systems in the world offers nearly 5,000 options to suit your precise travel plan and budget! Whether you're traveling consecutive days or intermittently, you'll find the Eurail Pass as the best bet.

Depending on the countries you want to visit in Europe, you can purchase any of the numerous Eurail Passes or Point to Point sector tickets between cities.
Our Eurail pass gives you unlimited train travel in 28 countries through the extensive 100,000 mile rail network of Europe. And there are a variety of options to choose
Available Types of Passes are as follows.


1-Global Pass
 Valid for 22 Countries
Austria
Belgium
Bulgaria
Croatia
Czech Republic
Denmark
Finland
France
Germany
Greece
Hungary
Ireland

Italy
Luxembourg
Netherlands
Norway
Portugal
Romania
Slovenia
Spain
Sweden
Switzerland
2- Select Pass
Choose your combination of 3, 4 or 5 Bordering Countries out of 24 European nations ideal
for travellers planning to focus on a specific area of Europe Unlimited travel on the national
rail networks of any 3 to 5 bordering countries that are connected by train or ship.
3- Regional Passes
Regional Passes are covering 2 Countries or more. Choose from a selection of 27 different
Regional Passes.
4- One Country Pass
Unlimited travel on the national rail network of selected country, which includes Europe, UK
through Brit Rail Passes, Swiss Travel System. Choose from a selection of more than 22
different One country Passes.
5- City Paases for London & Paris
Convenient City Passes which open wide the doors of the two iconic capitals free entry to the
most popular attraction in each city, free use of cities public transport system fast- track entry
at many of the major sights.
6- Point-to-Point Tickets
Single tickets from one city to another, also known as "Point-to-Point Tickets", are right for
you! A "Point-to-Point Ticket" is a rail ticket valid on a specific route, between two city stations.
Rest of the World
Canada: Via Rail Point-to-Point Tickets
Canada: Rocky Mountaineer: First Passage to the West, Journey through Clouds, Rainforest to Gold Rush
USA: USA National Rail Pass, AMTRAK Acela Express, AMTRAK Point-to-Point Tickets
South Korea: Korail Pass
Japan: Japan Rail Pass, Hokkaido Pass, Kyushu Pass, Sanyo Pass, West Kansai Pass
UK: ATOC - UK Rail - British Railway System
India: Indian Luxury Rail - Buddhist Special Train
Australia: Ausrail Pass, The Ghan, Indian Pacific, The Overland, Rail Explorer Pass
For more details regarding Eurail Tour Packages, feel free to write us at tourspackages@waqasholidays.com